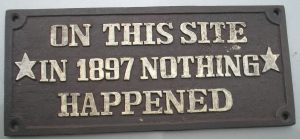 You've probably seen this plaque about in any heritage district with a sense of humor. I first saw it on the side of a gift shop in Virginia City back in 2010, and I had a good laugh, because of course I had already chosen 1897 as the year for my Ghost Town Novels, and the sign was less than one block away from where I had set several pivotal scenes.
Of course, by 1897, the Comstock had gotten a lot sleepier. The boom days were back in the 1860s and 1870s, and by the late 1890s, both Virginia City and Gold Hill were in decline, lending them that extra veneer of nostalgia and atrophy that made for a perfect "ghost town" setting.
But why 1897 specifically? Well, it was a pretty lively year! The inspiration for J. M. Barrie's Peter Pan, Peter Llewelyn Davies, was born. Queen Victoria celebrated her Diamond Jubilee. The Klondike Gold Rush began.  Bayer Pharmaceuticals started selling Aspirin.  William McKinley was sworn in as president of the United States. And for my purposes: Bram Stoker's horror novel Dracula was first published in London (it wouldn't be published in North America until 1899). I never could pass up a mythology gag.