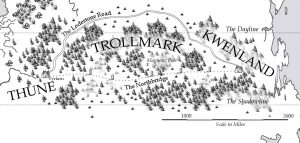 Exhibit 1 – the "reader friendly" version of the Northbridge, the dangerous trading route that goes over the north pole of Bifrons. I made it for my e-novella The Darkest North.
My priorities: readability and "intuitive clarity" – nothing extraneous cluttering up the map, nothing requiring a legend. You can see the heavy forests, the tundra, the major landmarks. There's a scale and clear text labels. Should be enough for any reader following the story.
Exhibit 2 – the "antique" version of the Northbridge. This one was made for my worldbook entries, and is more of an "in-universe" map – specifically, the rather ambitiously speculative map that my narrator Farco Maldwyn draws up in his journal, based on the testimony of his guides.
My priorities: readability and atmosphere  – I wanted it to look old and worn, so I took the original map and overlaid it on some olde-timey parchment paper. I'm pretty conflicted over keeping the scale bar… I doubt Maldwyn would have bothered to add that, but perhaps I could say it was added later by scholars.

Exhibit 3 – The "satellite" version, aka "The Biggun." Made because I have an abiding love of the lushness of detail in satellite view, and because I wanted an accurate picture of the north polar region of Bifrons. This is just a snippet of a larger map I made using an azimuthal equal-area projection of my base Bifrons map. I then did an overlay of Exhibit 1, made sure the scales all matched, enlarged to obscene proportions, and went to town with all my favorite brushes.
My priorities: consistent scale and sheer glorious aesthetics! It's a lot harder to read at a glance, but all the detail is there for someone willing to take the time, it depicts the unique color you'd find in the Bifrons polar biomes (black taiga and purple tundra), and it's soooooo pretty.